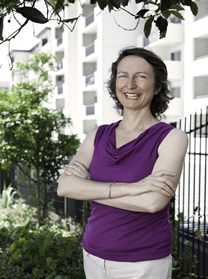 Dr Helen Smith is a holistic medical doctor registered with the Medical Council of NZ and working in Nutritional Medicine. She works with her team of staff from her apartment office at Auckland Holistic Centre, 4 Brickfield Way, Freemans Bay in central Auckland, New Zealand.
Dr Helen Smith's areas of work include working with you to do blood and other tests to see what your body needs to balance or may be lacking nutritionally or hormonally to keep or restore health. Dr Helen does prescriptions for bio-identical hormones to support ageing and the menopause as well as other specific health areas using nutritional medicine.

Dr Helen Smith has done radio interviews, written for health magazines and has appeared on TV with her earlier work as a medical doctor. She has done many hours work helping educate others: including giving health talks to nurses and other community groups on holistic (nutritional) medicine.
Dr Helen draws on a wealth of experience in the medical and natural health fields and has completed post graduate studies in nutritional medicine. Her medical degree is MBBS (1991) and she is a Fellow of the Royal New Zealand College of GPs. These days she works from the Auckland Holistic Centre using nutritional medicine approaches to your needs. Women, men, children and teens come to see Dr Helen for health and wellness holistic advice.

Dr Helen is a registered medical doctor, but recommends you keep your own local GP and hospital services for medical emergencies. For routine GP matters and use your local GP and see Dr Helen for holistic nutritional medicine.

You can discuss what nutrients or integrative approaches will help you as you work towards your personal or family health goals or through life changes such as the menopause and hormonal changes for women.